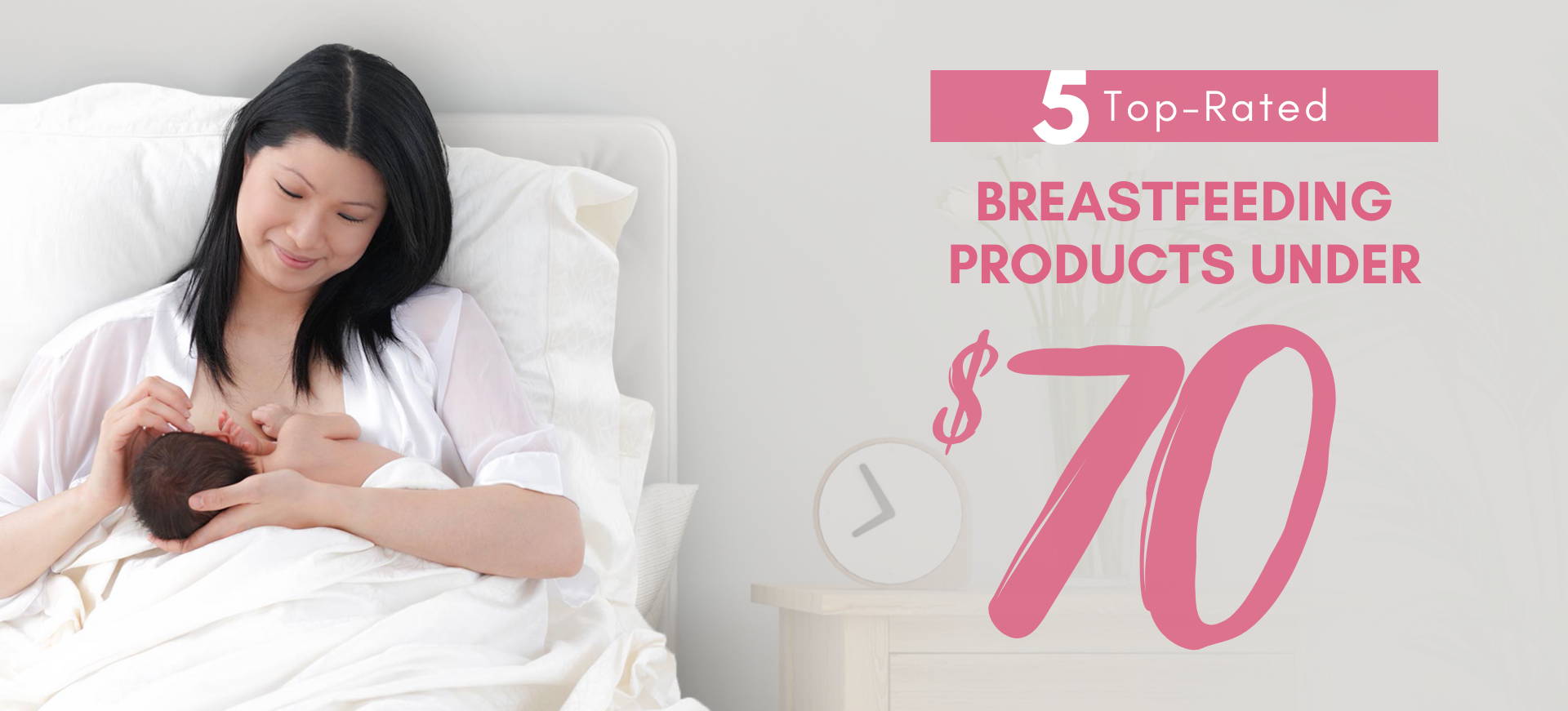 As shown by numerous studies, breastfeeding offers great health benefits for both the mother and baby. Your breast milk contains ideal nutrition and antibodies that keep your little one protected against illness and chronic diseases. Meanwhile, you also get to destress and improve the wellness of your breast, uterus, and ovaries through breastfeeding.
To make breastfeeding a more pleasant bonding experience for you and your baby, the right breastfeeding products can help—and they don't necessarily have to cost much. Here's a list of affordable and useful breastfeeding essentials that many breastfeeding mums swear by.
1. Earth Mama Organic Nipple Butter
Breastfeeding can be especially tough for many mums during the adjustment period in the beginning. As you and your baby figure out the breastfeeding and latching position that works best for both of you, your nipples can get dry, itchy, cracked or even bleed. A soothing nipple cream provides the necessary relief that makes breastfeeding much easier and more enjoyable for you and your little one.
Earth Mama Organic Nipple Butter is a 100% organic nipple butter with no petroleum, parabens, or lanolin, so there's no need for you to wash it off before breastfeeding! Its natural ingredients are highly moisturizing yet non-sticky. Your nipple isn't the only place you can apply this butter—feel free to rub a generous amount on your breast pump flange for a more comfortable expression, and you can also use it on your lips, cheeks, heels, elbows, and even cuticles!
2. Haakaa Silicone Breast Pump
A breast pump is one of the most necessary essentials for new mothers. Aside from allowing you to express milk on the go, breast pumps can effectively help to relieve engorgement and improve your milk flow. The two main types of breast pumps are electric breast pumps and manual breast pumps. Each type has its own advantage over the other so many mums end up buying both types to enjoy the best of both worlds. But if you are looking for a breast pump that is affordable, portable, and easy-to-use, Haakaa Silicone Breast Pump is just what you need.
Being rated as one of the best portable breast pumps by many breastfeeding mums, the Haakaa Silicone Breast pump is light, compact, and super easy to use. It is portable and fits perfectly into any handbag or baby bag, which is perfect if you are the type of mum who is always on the move. It allows effective milk expression with no cords, batteries, or assembly required, and comes with a clever non-spill suction base. You can use it for one side of your breast when you are breastfeeding on the other side too.
3. LaVie Lactation Massager
Studies around the world have shown that breast massage can greatly benefit lactating mums in multiple ways. Massaging your breast helps to relieve breast soreness during nursing and helps to soften your breast for better latching. On top of that, breast massage also helps to prevent and treat breastfeeding issues like engorgement, clogged ducts, or mastitis. While breast massaging doesn't directly increase milk supply, it does help you to empty your breasts more effectively which then signals your body to produce more milk.
The LaVie Lactation Massager is definitely the most well-loved massager in the market. Approved and recommended by lactation consultants, it has multiple vibration modes that help to improve milk flow and relieve pain caused by engorgement, plugged ducts, and other breastfeeding symptoms. As your milk flow improves, you can spend less time pumping and empty your breast faster. This massager is waterproof, quiet, and made of safe medical-grade silicone. It is also rechargeable for long-lasting use.
4. Cheeky Chompers MultiMuslin
If you choose to breastfeed in public, a nursing cover can give you more privacy and make you feel more comfortable. When you are breastfeeding outdoors, using a nursing cover can also protect your baby from sunlight or wind, and help your baby feed without much distraction. Choose a nursing cover that is soft, breathable, and easy to adjust. Also, life will get busy with a baby, so a nursing cover that is machine-washable will be a great help.
If you are looking for a nursing cover that offers all of the above, Cheeky Chompers Multimuslin has got you covered and more. It allows six clever uses in one super soft & breathable muslin. Use this as a breastfeeding cover without worries. Furthermore, there are two attachable rings that can be placed at the back of your neck for instant good coverage. The same ring can also be used as a teething ring that is soft for your baby to chew. Other than that, you can also use this muslin as a burp cloth, swaddle, blanket, and even a pram cover.
5. Nimble Baby Bottle Cleaning Kit
Unlike the other products mentioned above, you will not be using a bottle cleaning kit during nursing, but you'll definitely need a reliable one to keep your breast pumps and milk bottles squeaky clean. Washing your breastfeeding accessories with usual dish-washing liquid might potentially upset your baby's stomach, as it may contain harmful chemicals and fragrances, or leave milk residues in the bottle. Therefore, it's important to pick a baby bottle cleaning kit that is natural and effective.
The Nimble Bottle Cleaning Kit is a safe and natural cleaning kit that helps you keep all your breastfeeding items clean. It contains the Nimble Milk Buster and Magic Wand Cleaning Brush. The Milk Busters is made with plant-based ingredients that effectively remove breast milk and formula milk. You can also use it to clean teats, sippy cups, utensils, and even coffee machines and protein shakers! Use it together with the Magic Wands to keep your items clean and scratch-free.
Breastfeed Anywhere In Style
Now that you know which useful breastfeeding essentials to get, make things even easier for yourself by having an organized and practical breast pump bag. If you haven't already known, breast pump bags can be chic and stylish too!
The Sarah Wells Breast Pump Bag collection features a series of stylish and practical breast pump bags that allow mothers to bring all their breastfeeding items and more in one bag. One of the best-selling bags from their collection is the Sarah Wells "Abby" breast pump bag. It features 100% real leather shoulder straps and bag accents, and is designed with room for a breast pump, pumping accessories, keys, laptop, phone, and more!
Enjoy Savings & Rewards For Your Breastfeeding Products
Ready to make breastfeeding an even more pleasant experience for you and your little one? Here's some good news—you can get each of these five breastfeeding products under $70 at MumChecked, which entitles you to free delivery to your doorstep! That's not all, you even get to redeem exciting rewards as you collect points by shopping or reviewing! Grab these great deals at MumChecked now!
---